Abortion Pill – What Are We Talking About?
In her article in "Magyar Hírlap", Eszter Csernus expresses her views about misbelieves around the abortion by pill.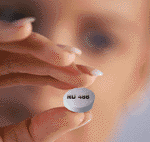 The Gynecologist and Obstetrics College of the Hungarian Medical Chamber recently approved the use of the medical combination called RU486. After the supportive opinion of the College, pro-life groups have again protested about the use of the medication in Hungary. In the controversy around the issue, Eszter Csernus argues for the abortion pill and for the choice of women applying for abortions on the pages of Magyar Hírlap.