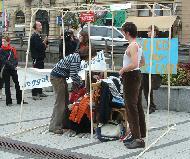 The demonstration has showed that without adequate legal regulations and restrictions we can be subject of observation virtually anywhere, any time: in pubs, in shopping moles, in public toilets or dressing rooms.

The Constitutional Court struck down the regulations concerning property guards for the second time.– the regulation in question were introduced by the Ministry of the Interior and was approved by the Parliament. The Constitutional Court found the law unconstitutional on the basis of concluding that the regulation does not provide protection for the privacy of people and is against human dignity.

HCLU, who has previously objected the regulation in question several times, welcomes the decision of the Constitutional Court for two reasons. On one hand because according to this decision it will not be possible to observe people with cameras set up in various places and on the other hand because it has been officially approved that the Parliament does not respect certain rights.

By its today's action HCLU intended to remind the rule-makers that when enacting regulations concerning property guards they must pay special attention to issues like protection of the privacy and private data protection rights.

HCLU hopes that after the regulation being struck down two times as unconstitutional, the Ministry of Interiors will manage to introduce a new law that fulfills the conditions of constitutionality. HCLU also hopes that lawmakers will focus on and take seriously their lawmaking tasks and in the future will not approve laws that ignore the basic rights of the citizens.